History
Although French and English inventors modified the velocipede into the high-wheel bicycle, the French were still recovering from the Franco-Prussian war, so English entrepreneurs put the high-wheeler on the English market, and the machine became very popular there, Coventry, Oxford, Birmingham and Manchester being the centers of the English bicycle industry (and of the arms or sewing machine industries, which had the necessary metalworking and engineering skills for bicycle manufacturing, as in Paris and St. Etienne, and in New England).[21] Soon bicycles found their way across the English Channel. By 1875, high-wheel bicycles were becoming popular in France, though ridership expanded slowly. By 1884 high-wheelers and tricycles were relatively popular among a small group of upper-middle-class people in all three countries, the largest group being in England. Their use also spread to the rest of the world, chiefly because of the extent of the British Empire.
20th Century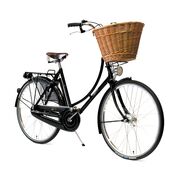 From the early 20th century until after World War II, the roadster constituted most adult bicycles sold in the United Kingdom and in many parts of the British Empire. For many years after the advent of the motorcycle and automobile, they remained a primary means of adult transport. Major manufacturers in England were Raleigh and BSA, though Carlton, Phillips, Triumph, Rudge-Whitworth, Hercules, and Elswick Hopper also made them.
Routes
Scotland
Wales
See all the dedicated Welsh cycle routes at [1].
Northern Ireland
See all the dedicated Northern Ireland cycle routes at [2].
Organisations
Distributors
Manufacturers
United Kingdom
Regional
Cambridgeshire
Edinburgh
Greater Manchester
Local Shops
London
Wiltshire & Gloucestershire
Local cycle clubs are:
Local Shops include:
Devon & Cornwall
Devon Cycling Community forums: