Pendleton are a range of ladies bikes produced by Victoria Pendleton exclusively for Halfords launched on 29 March 2012.
Range
2012
Somerby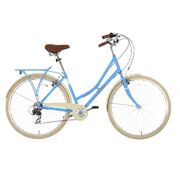 Somerby is a budget end city bike/shopper.[1][2][3][4][5][6]
The Pendleton Somerby is the best-selling model in the Pendleton bikes range. It's an upright traditional bicycle, featuring a low step through 17″ or 19″frame, 7-speed gears and 700c wheels, making it a simple option for everyday use.

If ever a bicycle needed a basket, this is it but the standard accessories list is generous. The Somerby features built in mudguards and chainguard a luggage rack and a sprung saddle for added comfort. Check out more information about the Pendleton Somerby here.

It's also available as a Limited Edition model, with new frame colours including Mint, Red or White. The Limited Edition model is cheap! By that we mean cheaper than the standard model, priced at £279, which is £20 cheaper than the standard model's £299 price tag.

By far the most popular bike in the Halfords range, it has 40 reviews and scores 4.8 our of 5 stars. Not bad!
Brooke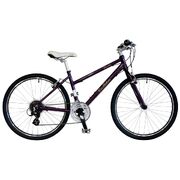 Brooke is a mid-range casual hybrid[8].
The Pendleton Brooke hybrid bike looks more like a traditional mountain bike and its specification is very similar. It's based around a lightweight alloy frame which is available in 16″ and 18″ sizes and features 24-speed gears, three on the front and eight on the rear.

It's designed to be ridden on a variety of surfaces, from town roads to gravel trails, paths and even muddy stuff. It features 26″ wheels, comfortable handlebar grips and leather-style saddle and non-slip pedals. It weights in at 12.9kgs, which is fairly lightweight for a bicycle in the hybrid category.

It's clearly a well-reviewed bike, with 4.8 out of 5 stars from 35 reviews on the Halfords website.
Dalby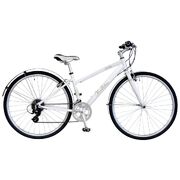 Dalby is top of the range hybrid.
The Pendleton Dalby hybrid bike is more of a road-orientated bike, aimed at those cycling for fitness or leisure. It comes in a 16″ or 18″ frame size and features 16-speed gears and road-biased wheels (less tread for a smoother ride), making it a great choice for the commuter, or, if you don't opt for a bicycle on the daily commute (you should!), it'll make a great weekend bike too. The slimline mudguards are standard fitment, meaning it's a versatile all-year bicycle for the casual cyclist or committed commuter. It weighs in at 13.9kgs and has been well reviewed on the Halfords website, scoring 4.4 out of 5 stars from 9 reviews.
2014
Initial
Initial is a road bicycle.
The Pendleton Initial is the women's specific road bicycle in the Pendleton range. It's perfect for women who are looking to get into road cycling, or want a road bike for commuting to work.

A classic blue finish is complemented by the rainbow stripes which celebrate Victoria Pendletons achievements in the world of cycling, and this is a bike that certainly looks the business.

The women's specific alloy frame is available in small and medium, and the 16 gears will be enough to get you up most hills. It comes with a comfortable women's specific saddle.
Ashwell
The Pendleton Ashwell Hybrid Bike looks like it came from the set of Downton Abbey. It's an upright ladies bicycle, also known as a sit-up-and-beg or step-through. The riding position coupled with wide seat are designed to make this a comfortable bicycle for casual cycling. It doesn't feature suspension but it does have a sprung seat, for added comfort.

It has five-speed gearing and is available in two frame sizes, 17″ and 19″ The standard accessories consist of built in mudguards a chainguard, luggage rack to carry panniers and 700C wheels which are designed for a more comfortable ride.

It's a popular bike, scoring 4 out of 5 stars from six owner reviews on the Halfords website.
The 'Ashwell' is the latest in the Victoria Pendleton range at Halfords. This 'Dutch Style' shopper is simply stunning looking and would make any woman proud to be seen riding on it. Aimed at women who are just starting out cycling maybe for slightly longer rides or even just women that haven't been on a bike in years, it'll give you assurance straight away due to the uncomplicated clutter like 20 extra gears you won't use or disc breaks like on most mens bikes!

The retro 1950's styling really gives it a timeless classic look with all the comfort of any quality modern bike. The classic black colour step-through frame comes in 17 and 19 inch sizes and has colour co-ordinated mudguards and chainguard to keep you mud and oil free. It's quality Sturmy Archer 5-Speed gears are all you need, being uncomplicated they're really easy to use and with the traditional swept back handle bars it really gives you a relaxed, but confident ride.

The seat is nice and wide, padded and sprung, so truly comfortable - unlike mountain bikes that give you bottom ache for weeks after! The seat and stitched handle-bar grips are also covered in a beautiful tan coloured leather-style material, that with the cream coloured tyres gives the look of the bike that extra bit of class. With luggage rack and a room for an optional wicker basket at the front, there's plenty of space for your groceries on a trip to your local shop.
Drake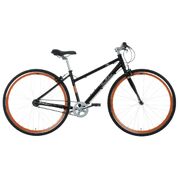 If minimalist urban bikes and cruising around town are your thing then the Pendleton Drake is the ladies bike for you. It looks like a fixed-gear bike but it actually features 3-speeds, to help you get up those steep hills and cruise in comfort.

The Drake uses a lightweight alloy frame, available in 16″ and 18″ sizes and it rolls on 700c wheels to soak-up the bumps and potholes that are littered around our city streets.

As yet it doesn't have any user reviews on the Halfords website but if it's anything like the rest of the range, it's bound to be a great choice.
Comparison
Bicycle
Name
Somerby
Ashwell
Drake
Frame
Alloy
Alloy
Alloy
Gears
Derailleur
Hub
hub?
Chainguard
Partial
Yes
No
References