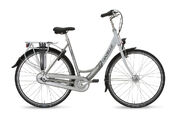 Dutch (also known as Omafiets, Opafiets and Stadsfiets) is a type of bicycle[1][2]. One of the most famous manufacturers is Royal Dutch Gazelle. They are designed for utility. Usually they come with
curved handlebars / swept back / North Road / upright
upright saddle position / sit up and beg
hub gears
mudguard
enclosed chain guard
pannier rack
rear wheel locks
Sit up and beg
The Oxford English Dictionary records the first written use of 'sit up and beg' in reference to a type of bicycle as late as 1978 (Lancashire Life: 'Old Luke's sit-up-and-beg bike was propped against one of the sandstone gateposts'.

Before that the term was most often used in a different way, implying speed, such as an example in 1919: 'Our gallant youth is quite prepared .. to make his seventy miles per hour motor-bike sit-up-and-beg as he would put it'. Alternatively it might imply mastery of a skill: '"He can make it sit and beg" indicates that a man has become extremely proficient in working some material, e.g. a metal.'

It would certainly be interesting to see how the phrase transitioned from mastery of machines and materials to the clear put down aspect of the 'sit up and beg' reference to bicycles, but the OED offers no help here.
Pashley Poppy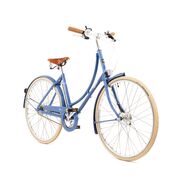 The Poppy exudes an elegant simplicity that turns heads wherever it takes you. Inspired by the colours of an English country garden in the height of summer, the choice of Blush Pink or Pastel Blue paintwork only adds to the beauty of the classic curved frame, letting you glide gently through your surroundings in a comfortable upright position.

It is the subtle details that really complete the Poppy experience, from our soft touch cork grips to the hand-made Brooks leather saddle that gradually forms to your shape for true support. The Poppy is not just a pretty face, however, and is suited to both short hops around town and longer weekend jaunts into the countryside. The hub brakes ensure powerful stopping in all weathers, the lightweight 3 speed hub gears let you tackle hills while still keeping a good pace around the city, and the gorgeous cream Schwalbe tyres resist punctures to give you uninterrupted riding pleasure.

Indeed, the joy of cycling is at the very heart of what makes the Poppy a wonderful companion for life, an eye-catching bicycle that lets you explore in comfort, style and the pace of a bygone era.
Pendleton Somerby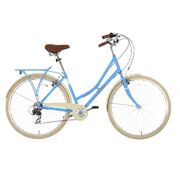 Somerby is a budget end city bike/town bike/shopper.[7][8][9][10][11][12]
The Pendleton Somerby is the best-selling model in the Pendleton bikes range. It's an upright traditional bicycle, featuring a low step through 17″ or 19″frame, 7-speed gears and 700c wheels, making it a simple option for everyday use.

If ever a bicycle needed a basket, this is it but the standard accessories list is generous. The Somerby features built in mudguards and chainguard a luggage rack and a sprung saddle for added comfort. Check out more information about the Pendleton Somerby here.

It's also available as a Limited Edition model, with new frame colours including Mint, Red or White. The Limited Edition model is cheap! By that we mean cheaper than the standard model, priced at £279, which is £20 cheaper than the standard model's £299 price tag.

By far the most popular bike in the Halfords range, it has 40 reviews and scores 4.8 our of 5 stars. Not bad!
Raleigh Cuckoo
Royal Dutch Gazelle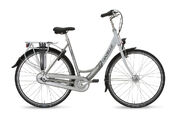 Esprit C7 - Esprit C3
Available in a range of colours and fun patterns, the Gazelle Classic is both an affordable fashion accessory and a brilliant bike. Choose between the single speed with battery powered lighting and a pedal brake or the 3 Speed Shimano Nexus Hub Gears option with a front and rear brake combination. It also comes with a sturdy AXA security lock as standard to help stop anyone from stealing your beautiful bike.
Highlander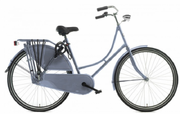 Highlander Ice Blue Dutch Bike
For such a small price tag the Highlander Ice Blue Dutch Bike boasts a lot of benefits. It comes with full-length wide mudguards, a rear integrated lock, a kickstand, back rack and bell all as standard, ensuring that you look just as good when you get to work as you do whilst you are riding there. Traditional in mechanism as well as design, the Highlander has both a back pedal brake and a front calliper brake so you can subtly roll to a holt with elegance and ease.
Viking
Comparison
Bicycle
Hub gears
No
No
No
Yes
Mudguard
Yes
Yes
Yes
Chainguard
Pannier rack
Rear wheel lock
Dynamo light
See also
References
External links