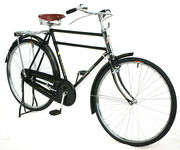 China's history of cycling is dominated by the Flying Pigeon and utility cycling. The Flying Pigeon was at the forefront of the bicycle phenomenon in the People's Republic of China. The vehicle was the government approved form of transport, and the nation became known as zixingche wang guo, the Kingdom of Bicycles. A bicycle was regarded as one of the three "must-haves" of every citizen, alongside a sewing machine and watch - essential items in life that also offered a hint of wealth. The Flying Pigeon bicycle became a symbol of an egalitarian social system that promised little comfort but a reliable ride through life.
Throughout the 1960s and 1970s, the logo became synonymous with almost all bicycles in the country. The Flying Pigeon became the single most popular mechanized vehicle on the planet, becoming so ubiquitous that Deng Xiaoping — the post-Mao leader who launched China's economic reforms in the 1970s — defined prosperity as "a Flying Pigeon in every household".
In the early 1980s, Flying Pigeon was the country's biggest bike manufacturer, selling 3 million cycles in 1986. Its 20-kilo black single-speed models were popular with workers, and there was a waiting list of several years to get one, and even then buyers needed good guanxi (connections) in addition to the purchase cost, which was about four months' wages for most workers.
References
See also
External links